How to Break a Dragon's Heart: Book 8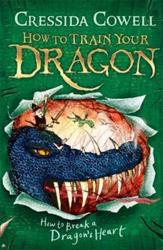 R 190.00
R 220.00
SAVE R 30.00
How to Break a Dragon's Heart: Book 8
Out of Stock
Can Order
Non Refundable
Estimated Dispatch Date:
07 Dec 2023
How to Break a Dragon's Heart: Book 8
Share:
Description
Hiccup Horrendous Haddock the Third is a smallish Viking with a longish name. Hiccup's father is chief of the Hairy Hooligan tribe which means Hiccup is the Hope and the Heir to the Hairy Hooligan throne - but most of the time Hiccup feels like a very ordinary boy, finding it hard to be a Hero. Whilst searching for his lost friend Camicazi, Hiccup and the Hooligan Tribe have ended up on Uglithug Island. Now UG, the most brutal King in the World, sets Hiccup the Impossible Task. He must venture to the Isle of Berserk to pass his test or DIE trying. And all while being hunted down by an old enemy with a dark secret about the Lost Throne... Can Hiccup find Camicazi, and succeed in his task?
Product Information
ISBN13 (SKU)
9780340996928
Title
How to Break a Dragon's Heart: Book 8
Country of Publication
United Kingdom
Related Products
This product has no related products.