A Hero's Guide to Deadly Dragons: Book 6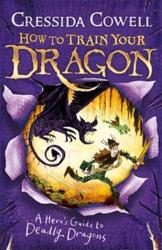 R 220.00
R 250.00
SAVE R 30.00
A Hero's Guide to Deadly Dragons: Book 6
Out of Stock
Can Order
Non Refundable
Estimated Dispatch Date:
04 Dec 2023
A Hero's Guide to Deadly Dragons: Book 6
Share:
Description
Hiccup Horrendous Haddock the Third is a smallish Viking with a longish name. Hiccup's father is chief of the Hairy Hooligan tribe which means Hiccup is the Hope and the Heir to the Hairy Hooligan throne - but most of the time Hiccup feels like a very ordinary boy, finding it hard to be a Hero. Hiccup Haddock Horrendous the Third just wants a nice PEACEFUL birthday. But Hiccup's dad wants to steal the prized How to Train Your Dragon book, and prove that his Hooligans are just as good as the Bog Burglars - except Hiccup's dragon Toothless has EATEN it!
Product Information
ISBN13 (SKU)
9780340999134
Title
A Hero's Guide to Deadly Dragons: Book 6
Publisher
Hachette Childrens Group
Country of Publication
United Kingdom
Related Products
This product has no related products.