Issues and Ethics in the Helping Professions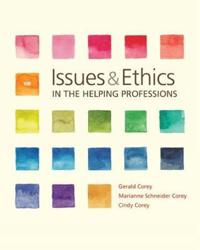 R 930.00
R 1070.00
SAVE R 140.00
Issues and Ethics in the Helping Professions
Gerald Corey ; Cindy Corey ; Marianne Corey
Out of Stock
Can Order
Non Refundable
Estimated Dispatch Date:
13 Jul 2022
Issues and Ethics in the Helping Professions
Description
This contemporary and practical text helps you discover and determine your own guidelines for helping within the broad limits of professional codes of ethics and divergent theoretical positions. ISSUES AND ETHICS IN THE HELPING PROFESSIONS is the relied-upon, essential resource for students in any helping field -- the book many students return to well into their professional careers. The authors discuss central issues, present a range of diverse views on the issues, discuss their position, and present opportunities for you to refine your own thinking and actively develop your own informed position. The tenth edition can be purchased with MindTap, which brings course concepts to life with interactive learning, study, and exam preparation tools.
Product Information
ISBN13 (SKU)
9780357670552
Title
Issues and Ethics in the Helping Professions
Author
Gerald Corey ; Cindy Corey ; Marianne Corey
Country of Publication
United States
Related Products
This product has no related products.