Handy Hints on Legal Practice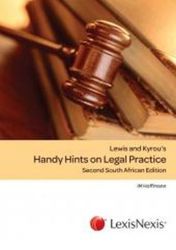 R 950.00
R 1090.00
SAVE R 140.00
Handy Hints on Legal Practice
Out of Stock
Can Order
Non Refundable
Estimated Dispatch Date:
11 Jul 2022
Handy Hints on Legal Practice
Share:
Description
Handy hints expertly bridges the gap between legal training and legal experience. It is a simple and practical guide to the basic features of legal practice, with liberal sprinklings of "common sense" aimed at law graduates and newly admitted practitioners. Handy hints on legal practice blends legal rules with practical advice and keeps an eye on the ethical standards of the profession. Handy hints serves as a "survival kit" for new lawyers and will assist senior lawyers to urgently assess when it may be "time to quit". The book is informative, easy to read and entertaining. Although many parts of the second edition have enduring value, other parts have been overtaken by developments in the law and changes in legal practice since that edition was published in 1993. These have been reworked. Many changes in the practice of law have resulted from rapid technological change and increased globalisation. Communication by email and internet-based legal research are now commonplace
Product Information
ISBN13 (SKU)
9780409049916
Title
Handy Hints on Legal Practice
Author
Ingrid M. Hoffmann
Country of Publication
South Africa
Related Products
This product has no related products.