Auditing Legislation and Standards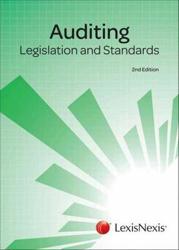 R 640.00
R 740.00
SAVE R 100.00
Auditing Legislation and Standards
In Stock (Online, In Store)
Estimated Dispatch Date:
01 Jul 2022
Auditing Legislation and Standards
Description
This book consists of three parts. Part One: Legislation, Part Two: The King Code and Report, and Part Three: The International Standards for the Professional Practice of Internal Auditing. Legislation includes the Companies Act No. 71 of 2008, Close Corporations Act No. 69 of 1984, Auditing Profession Act No. 26 of 2005 and Public Finance Management Act No.1 of 1999.This book is also available in eBook format.
Product Information
ISBN13 (SKU)
9780409119817
Title
Auditing Legislation and Standards
Country of Publication
South Africa
Institutions
University of Pretoria, UNISA
Course Codes
IOK701, AUE1601