Africa: Diversity and Development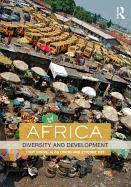 R 350.00
R 400.00
SAVE R 50.00
Africa: Diversity and Development
T. Binns, A. Dixon, E. Nel
Out of Stock
Can Order
Non Refundable
Estimated Dispatch Date:
23 Aug 2022
Africa: Diversity and Development
Share:
Description
For many, Africa is regarded as a place of mystery and negative images, where reports of natural disasters and civil strife dominate media attention, with relatively little publicity given to any of the continent's more positive attributes. Africa has at last begun to receive the depth of interest it has long deserved, in the shape of debates about trade, aid and debt, the 'Make Poverty History' campaign, and the UK's 'Commission on Africa'. But, behind the superficial media facade, Africa is a diverse, complex and dynamic place, with a rich history and a colonial engagement that, although short-lived, was fundamental in determining the long-term future of the continent. At the start of the second decade of the twenty-first century, when the world is engulfed in a major financial crisis, Africa has the dubious distinction of being the world's poorest continent.
Product Information
ISBN13 (SKU)
9780415413688
Title
Africa: Diversity and Development
Author
T. Binns, A. Dixon, E. Nel
Publisher
Taylor & Francis Ltd
Country of Publication
United Kingdom
Related Products
This product has no related products.