Langford's Basic Photography : The Guide for Serious Photographers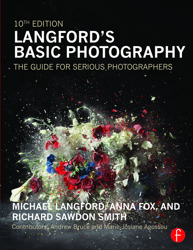 R 870.00
R 1000.00
SAVE R 130.00
Langford's Basic Photography : The Guide for Serious Photographers
Estimated Dispatch Date:
04 Jul 2022
Langford's Basic Photography : The Guide for Serious Photographers
Share:
Description
This seminal photography text, now in its 10th edition and celebrating its 50th anniversary, has been revamped, reorganized, and modernized to include the most up-to-date, need to know information for photographers. Ideal for students, beginners, and advanced users wanting to brush up on the fundamentals of photography, this book is a must have for any photographer's bookcase. The heart of this text, however, retains the same comprehensive mix of scholarly and practical information.
Product Information
ISBN13 (SKU)
9780415718912
Title
Langford's Basic Photography : The Guide for Serious Photographers
Country of Publication
United Kingdom
Institutions
Stadio - School of Fashion, Stadio - School of Media and Design
Course Codes
AP12, AP13, PT12, PTH12, VH11