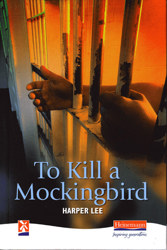 R 200.00
R 230.00
SAVE R 30.00
Out of Stock
Can Order
Non Refundable
Estimated Dispatch Date:
11 Jul 2022
To Kill a Mockingbird
Share:
Description
A first novel, this is also a first person account of Scout's (Jean Louise) recall of the years that led to the ending of a mystery, the breaking of her brother Jem's elbow, the death of her father's enemy - and the close of childhood years. A widower, Atticus raises his children with legal dispassion and paternal intelligence, and is ably abetted by Calpurnia, the colored cook, while the Alabama town of Maycomb, in the 1930's, remains aloof to their divergence from its tribal patterns. Scout and Jem, with their summer-time companion, Dill, find their paths free from interference - but not from dangers; their curiosity about the imprisoned Boo, whose miserable past is incorporated in their play, results in a tentative friendliness; their fears of Atticus' lack of distinction is dissipated when he shoots a mad dog; his defense of a Negro accused of raping a white girl, Mayella Ewell, is followed with avid interest and turns the rabble whites against him.
Product Information
ISBN13 (SKU)
9780435120962
Title
To Kill a Mockingbird
Country of Publication
United Kingdom
Related Products
This product has no related products.