The Textbook of Pharmaceutical Medicine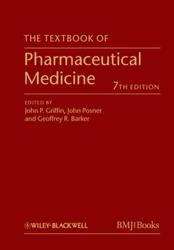 R 5070.00
R 5830.00
SAVE R 760.00
The Textbook of Pharmaceutical Medicine
John P. Griffin ; John Posner ; Geoffrey R. Barker
Out of Stock
Can Order
Non Refundable
Estimated Dispatch Date:
13 Jul 2022
The Textbook of Pharmaceutical Medicine
Description
The Textbook of Pharmaceutical Medicine is the standard reference for everyone working and learning in pharmaceutical medicine. It is a comprehensive resource covering the processes and practices by which medicines are developed, tested and approved, and the recognised text for the Diploma in Pharmaceutical Medicine from the Faculty of Pharmaceutical Medicine. This fully revised Seventh Edition, which includes two new Editors, encompasses current developments within pharmaceutical medicine with new chapters on biological therapeutics, pharmacovigilance, vaccines, drugs for cancer, drug development in paediatrics and neonatalogy, the clinical trials directive, life cycle management of medicines, counterfeit medicines and medical marketing. Also included for easy reference, and referred to throughout the text, are the Declaration of Helsinki, Guidelines and Documentation for Implementation of Clinical Trials, relevant European Directives and the Syllabus for Pharmaceutical Medicine
Product Information
ISBN13 (SKU)
9780470659878
Title
The Textbook of Pharmaceutical Medicine
Author
John P. Griffin ; John Posner ; Geoffrey R. Barker
Country of Publication
United States
Related Products
This product has no related products.