Physical Metallurgy Principles - SI Version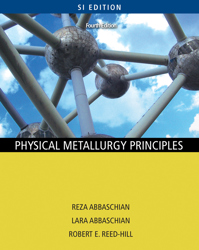 R 1250.00
R 1440.00
SAVE R 190.00
Physical Metallurgy Principles - SI Version
R. Abbaschian, L. Abbaschian, R. E. Reed-Hill
Out of Stock
Can Order
Non Refundable
Estimated Dispatch Date:
15 Jul 2022
Physical Metallurgy Principles - SI Version
Share:
Description
This comprehensive, student friendly text is intended for use in an introductory course in physical metallurgy and is designed for all engineering students at the junior or senior level. The approach is largely theoretical but all aspects of physical metallurgy and behavior of metals and alloys are covered. The treatment used in this textbook is in harmony with a more fundamental approach to engineering education. An extensive revision has been done to insure that the content remains the standard for metallurgy engineering courses worldwide.
Product Information
ISBN13 (SKU)
9780495438519
Title
Physical Metallurgy Principles - SI Version
Author
R. Abbaschian, L. Abbaschian, R. E. Reed-Hill
Country of Publication
United States
Institutions
University of Pretoria
Related Products
This product has no related products.