Project management: A multi-disciplinary approach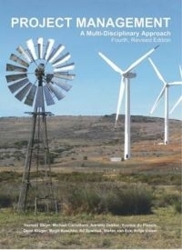 R 390.00
R 450.00
SAVE R 60.00
Project management: A multi-disciplinary approach
H Steyn, M Carruthers, A Dekker, Y Du Plessis, D Kruger, B Kuschke
Estimated Dispatch Date:
08 Jul 2022
Project management: A multi-disciplinary approach
Share:
Description
Since 2003 the 1st. 2nd and 3rd Editions of this book have been used extensively in teaching several courses. This provided the opportunity of improving and updating the material to bring you this state-of-the-art Fourth Edition. The widespread use of the book enables the publishers to offer it at a most competitive price. The book is written by South Africans, for South Africans; readers relate easily to the idiom, language and cases. It provides a structured approach and practical tools that are essential for project managers to develop skills that are essential in all spheres of business and government.
Product Information
ISBN13 (SKU)
9780620647465
Title
Project management: A multi-disciplinary approach
Author
H Steyn, M Carruthers, A Dekker, Y Du Plessis, D Kruger, B Kuschke
Country of Publication
South Africa
Institutions
University of Pretoria , Akademia
Course Codes
IPJ801, IPK780, EPRBS372
Related Products
This product has no related products.