The New Essential Labour Law Handbook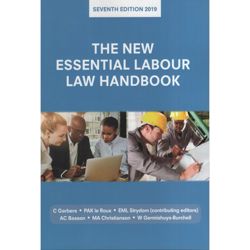 R 830.00
R 950.00
SAVE R 120.00
The New Essential Labour Law Handbook
C. Garbers, P.A.K. Le Roux, E.M.L. Strydom, A.C. Basson, M.A. Christianson, W. Germishuys-Burchell
Low stock (Online, In Store)
Estimated Dispatch Date:
15 Aug 2022
The New Essential Labour Law Handbook
Share:
Description
The New Essential Labour Law Handbook is the 7th edition of Essential Labour Law, first published in 1998. As before, the approach has been to provide both labour law and labour relations practitioners with a clear and concise introduction to the principles of South African labour law. This edition includes an analysis of the National Minimum Wage Act which came into operation on 1 January 2019. It also deals with the new types of leave envisaged in the 2019 amendments to the Basic Conditions of Employment Act, namely parental leave, adoption leave and commissioning parental leave. All of the chapters reflect the important court decisions handed down during the last two years in respect of the Constitutional labour relations rights and all other topics dealt with in this handbook.
Product Information
ISBN13 (SKU)
9780620861502
Title
The New Essential Labour Law Handbook
Author
C. Garbers, P.A.K. Le Roux, E.M.L. Strydom, A.C. Basson, M.A. Christianson, W. Germishuys-Burchell
Publisher
MACE Publications
Country of Publication
South Africa
Institutions
Stadio Krugersdorp
Course Codes
LLA101, LLA400
Related Products
This product has no related products.