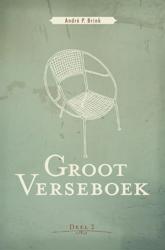 R 300.00
R 340.00
SAVE R 40.00
Out of Stock
Can Order
Non Refundable
Estimated Dispatch Date:
08 Jul 2022
Groot Verseboek Deel 2
Description
The second volume of Groot Verseboek.Groot Verseboek represents an adventure of uncommon scope and ambition: the best and most representative poems produced in a language since its first hesitant, often stumbling, but always exuberant efforts just over a century ago, until the most up-to-date modern and postmodern verse written during the first decade of the 21st century. In a total of 1424 pages the work of some 216 poets is offered to the reader, from the First Language Movement in the late 19th century - chauvinistic and patriotic utterances, religious fervour, the intense involvement with nature, the upheavals of the Anglo-Boer War the first protestations of love in an environment of primness and prejudice - to the increasingly frank explorations of the individual consciousness leading to an early peak of creativity in the 1930s and 1940s, and wanderings through the dark night of the soul or the fierce and feverish light of private passions.
Product Information
ISBN13 (SKU)
9780624045908
Title
Groot Verseboek Deel 2
Country of Publication
South Africa
Institutions
University of Pretoria
Related Products
This product has no related products.