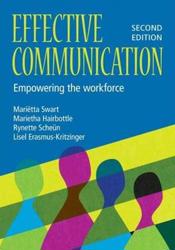 R 320.00
R 370.00
SAVE R 50.00
Marietta Swart • Marietha Hairbottle • Rynette Scheun • Lisel Erasmus-Kritzinger
Out of Stock
Can Order
Non Refundable
Estimated Dispatch Date:
18 Aug 2022
Effective Communication
Share:
Description
A comprehensive, up-to-date and relevant communication text which engages readers through both a theoretical and an applied lens. Blends technological awareness and ability with basic communication skills and practices. Provides numerous examples as well as video clips. Aimed at students and employees, including those at executive management level.
Product Information
ISBN13 (SKU)
9780627031007
Title
Effective Communication
Author
Marietta Swart • Marietha Hairbottle • Rynette Scheun • Lisel Erasmus-Kritzinger
Publisher
Van Schaik Publishers
Country of Publication
South Africa
Related Products
This product has no related products.