Believe that all can Achieve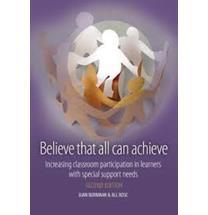 R 550.00
R 630.00
SAVE R 80.00
Believe that all can Achieve
Out of Stock
Can Order
Non Refundable
Estimated Dispatch Date:
07 Jul 2022
Believe that all can Achieve
Description
Believe that all can achieve embraces the core values of the South African Constitution - freedom, dignity and equality. It shares best practice, evidence-based techniques and strategies in an effort to build a deeper understanding of the core issues. Narratives, case studies, screening checklists, engaging illustrations and examples enable the teacher to translate theory into actuality in the classroom. The chapters on challenging behaviours; intellectual, learning, physical and sensory disabilities; autistic spectrum disorders, and medical conditions add a wealth of information and a ready reference. Believe that all can achieve is aimed at students and teachers in the field of inclusive education.
Product Information
ISBN13 (SKU)
9780627034336
Title
Believe that all can Achieve
Author
J. Bornman, J. Rose
Publisher
Van Schaik Publishers
Country of Publication
South Africa
Related Products
This product has no related products.