Basic Accounting for Non-Accountants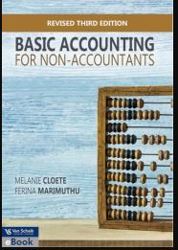 R 400.00
R 460.00
SAVE R 60.00
Basic Accounting for Non-Accountants
In Stock (Online, In Store)
Estimated Dispatch Date:
01 Jul 2022
Basic Accounting for Non-Accountants
Description
Accounting is a system of gathering, analysing, recording, reporting and interpreting financial information that will assist in making informed business decisions. The accounting discipline is constantly changing in response to the external environment, and is both stimulating and far-reaching. Basic accounting for non-accountants is an introductory text that covers aspects of financial accounting, cost and management accounting and financial management. Basic accounting for non-accountants includes comprehensive illustrative examples that are easy to understand. All chapters have been updated and additional tutorial questions have been provided to give students sufficient practice to rein-force their newly acquired knowledge. This third edition also covers a new topic - capital budgeting.
Product Information
ISBN13 (SKU)
9780627037191
Title
Basic Accounting for Non-Accountants
Author
M. Cloete, F. Marimuthu
Publisher
Van Schaik Publishers
Country of Publication
South Africa