Resource Development : A Practical Guide for Teachers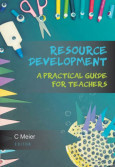 R 330.00
R 380.00
SAVE R 50.00
Resource Development : A Practical Guide for Teachers
Out of Stock
Can Order
Non Refundable
Estimated Dispatch Date:
11 Jul 2022
Resource Development : A Practical Guide for Teachers
Share:
Description
Teaching and learning resources are all the materials, aids and equipment that teachers use to facilitate effective teaching and learning within their classrooms. Teaching resources should include a wide range of visual, auditory, audio-visual, text/graph-based, tactile or multimedia materials, such as posters, flashcards, storybooks, digital storybooks, videos, songs, puppets. They also include equipment such as white boards, laptops and projectors. Teaching and learning resources can assist learners throughout the learning process and make learning more memorable because visual and tactile experiences amplify long-term memory. Resource development: a practical guide for teachers is aimed at teachers in preschools and schools that use teaching and learning resources daily to enhance their classroom activities, as well as parents that need to assist their children with school projects.
Product Information
ISBN13 (SKU)
9780627037221
Title
Resource Development : A Practical Guide for Teachers
Publisher
Van Schaik Publishers
Country of Publication
South Africa
Related Products
This product has no related products.