About Financial Accounting: Volume 1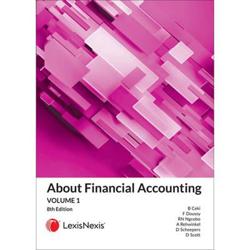 R 900.00
R 1040.00
SAVE R 140.00
About Financial Accounting: Volume 1
P. R. Berry, F. Doussy, E. S. De Klerk, D. Scott, J. S. Jansen van Rensburg, R. Ngcobo, A Rehwinkel, D. Scheepers
In Stock (Online, In Store)
Estimated Dispatch Date:
01 Jul 2022
About Financial Accounting: Volume 1
Description
The book is divided into two volumes. Volume 1 deals with the concepts, principles and procedures of financial accounting. Volume 2 (suitable for NQF level 6) deals with accounting for partnerships, close corporations, branches and manufacturing entities. Volume 2 also covers some management accounting principles such as budgets and the analysis and interpretation of financial statements. This edition has been updated with the March 2018 Conceptual Framework and introduces International Financial Reporting Standards (IFRSs) to readers.
Product Information
ISBN13 (SKU)
9780639008646
Title
About Financial Accounting: Volume 1
Author
P. R. Berry, F. Doussy, E. S. De Klerk, D. Scott, J. S. Jansen van Rensburg, R. Ngcobo, A Rehwinkel, D. Scheepers
Country of Publication
South Africa
Related Products
This product has no related products.