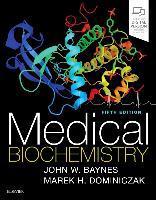 R 1670.00
R 1920.00
SAVE R 250.00
J. W. Baynes, M. H. Dominiczak
Out of Stock
Can Order
Non Refundable
Estimated Dispatch Date:
18 Jul 2022
Medical Biochemistry
Description
You will learn basic science concepts and see them illustrated by clinical cases that describe patients you will likely encounter in your clinical training. You will also learn about the use of laboratory tests to diagnose and monitor the most important conditions. Brought to you in a thorough yet accessible manner, this new edition of Medical Biochemistry highlights the latest developments in regulatory and molecular biology, signal transduction, biochemistry and biomarkers of chronic disease, and bioinformatics and the '-omics'. It highlights the most important global medical issues: diabetes mellitus, obesity and malnutrition, cancer and atherosclerotic cardiovascular disease, and addresses the role of nutrition and exercise in medicine.
Product Information
ISBN13 (SKU)
9780702072994
Title
Medical Biochemistry
Author
J. W. Baynes, M. H. Dominiczak
Country of Publication
United Kingdom
Course Codes
BCHF215, FBCG211
Related Products
This product has no related products.