Emery's Elements of Medical Genetics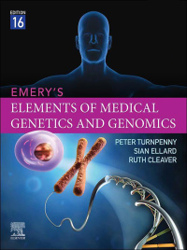 R 1130.00
R 1300.00
SAVE R 170.00
Emery's Elements of Medical Genetics
Peter D Turnpenny; Sian Ellard; Ruth Cleaver
Out of Stock
Can Order
Non Refundable
Estimated Dispatch Date:
19 Jul 2022
Emery's Elements of Medical Genetics
Share:
Description
Long recognized as a leading textbook in this fast-moving field, Emery's Elements of Medical Genetics and Genomics offers current, complete information with a strong basis in practical clinical genetics and genomics for medical school and beyond. The 16th Edition of this award-winning text has been thoroughly updated throughout and includes case-based and multiple-choice questions, end-of-chapter summaries, an extensive glossary, and convenient online access, making it an ideal choice for all medical undergraduates as well as postgraduates seeking to improve their understanding and knowledge.
Product Information
ISBN13 (SKU)
9780702079665
Title
Emery's Elements of Medical Genetics
Author
Peter D Turnpenny; Sian Ellard; Ruth Cleaver
Country of Publication
United Kingdom
Institutions
University of Pretoria
Related Products
This product has no related products.