Setswana Tota Mophato 4 Buka ya Barutwana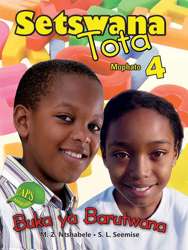 R 150.00
R 170.00
SAVE R 20.00
Setswana Tota Mophato 4 Buka ya Barutwana
M. Z. Ntshabele, S. L. Seemise
Out of Stock
Can Order
Non Refundable
Estimated Dispatch Date:
13 Jul 2022
Setswana Tota Mophato 4 Buka ya Barutwana
Share:
Description
Dibuka tsa Setswana Tota ke motseletsele wa dibuka tsa Setswana Puo ya Gae. Dibuka tse di kwaletswe barutwana ba puo ya Setswana ba mophato wa 4, 5 le 6. Setswana Tota e na le dikarolo tse di latelang: Buka ya Barutwana, Kaedi ya Morutabana le Buka ya go Buisa. Dibuka tse di tshotse tse di latelang: Go bonolo go dirisa dibuka tse ka gonne kagego le tsamaiso ya tsona e latelega bonolo, mme di ikamaganya le Pegelo ya Pholisi ya Bosetshaba ya Kharikhulamo le Tlhatlhobo.
Product Information
ISBN13 (SKU)
9780796051059
Title
Setswana Tota Mophato 4 Buka ya Barutwana
Author
M. Z. Ntshabele, S. L. Seemise
Publisher
Shuter and Shooter
Country of Publication
South Africa
Related Products
This product has no related products.