Public Relations Theory II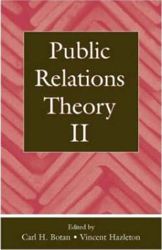 R 710.00
R 820.00
SAVE R 110.00
Public Relations Theory II
Vincent Hazleton; Carl H Botan
Estimated Dispatch Date:
11 Jul 2022
Public Relations Theory II
Share:
Description
The public relations landscape has changed dramatically from what it was in 1989, when the original Public Relations Theory volume was published. Reflecting the substantial shifts in the intervening years, Public Relations Theory II, while related to the first volume, is more a new work than a revision. Editors Carl H. Botan and Vincent Hazleton have brought together key theorists and scholars in public relations to articulate the current state of public relations theory, chronicling the ongoing evolution of public relations as a field of study. The contributors to this volume represent the key figures in the discipline, and their chapters articulate the significant advances in public relations theory and research.
Product Information
ISBN13 (SKU)
9780805833850
Title
Public Relations Theory II
Author
Vincent Hazleton; Carl H Botan
Country of Publication
United States
Related Products
This product has no related products.