Desk Reference to the Diagnostic Criteria from DSM-5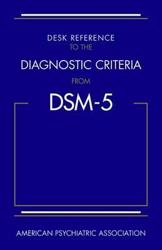 R 1590.00
R 1830.00
SAVE R 240.00
Desk Reference to the Diagnostic Criteria from DSM-5
Out of Stock
Can Order
Non Refundable
Estimated Dispatch Date:
11 Jul 2022
Desk Reference to the Diagnostic Criteria from DSM-5
Description
The Desk Reference to the Diagnostic Criteria From DSM-5[trademark] is a concise, affordable companion to the ultimate psychiatric reference, DSM-5[trademark]. It includes a fully revised diagnostic classification and all of the diagnostic criteria from DSM-5[trademark] in an easy-to-use paperback format. This handy reference provides quick access to the information essential to making a diagnosis. Designed to supplement DSM-5[trademark], this convenient guide will assist all mental health professionals as they integrate the DSM-5[trademark] diagnostic criteria into their diagnoses. The Diagnostic and Statistical Manual of Mental Disorders stands alone as the most authoritative reference available for clinical practice in the mental health field, and the structural and diagnostic changes in the fifth edition are `must-know` material for every clinician
Product Information
ISBN13 (SKU)
9780890425565
Title
Desk Reference to the Diagnostic Criteria from DSM-5
Publisher
Oxford University press
Country of Publication
United States
Related Products
This product has no related products.