Study & Master Study Guide Technology Grade 7-9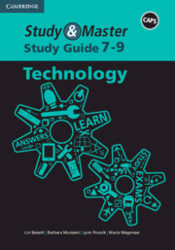 R 160.00
R 180.00
SAVE R 20.00
Study & Master Study Guide Technology Grade 7-9
L .Bassett ;L .Pocock; B .Munsami; M. M. E. Wagenaar
Out of Stock
Can Order
Non Refundable
Estimated Dispatch Date:
14 Jul 2022
Study & Master Study Guide Technology Grade 7-9
Share:
Description
Study & Master Technology Grade 7-9 Study Guide is an invaluable tool to help you to pass Technology in the Senior Phase. This marvellous resource consolidates what you have learnt in the Intermediate Phase and provides you with: introductions to and further discussions of the various themes and topics relevant to Grade 7 to 9 Technology. It features fully worked out examples, answers to all exercises and examination papers to test yourself and an illustrated list of tools and their uses in technology an illustrated glossary of technology concepts to aid your understanding.
Product Information
ISBN13 (SKU)
9781107504547
Title
Study & Master Study Guide Technology Grade 7-9
Author
L .Bassett ;L .Pocock; B .Munsami; M. M. E. Wagenaar
Country of Publication
United Kingdom
Related Products
This product has no related products.