Study & Master Life Skills Learner's Book Grade 5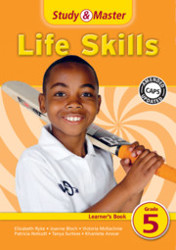 R 250.00
R 290.00
SAVE R 40.00
Study & Master Life Skills Learner's Book Grade 5
Elizabeth Ryke,;Donve Lee,; Joanne Bloch; Victoria McKechnie; Patricia Notcutt; Tanya Surtees; Khanieta Anwar
Out of Stock
Can Order
Non Refundable
Estimated Dispatch Date:
11 Jul 2022
Study & Master Life Skills Learner's Book Grade 5
Share:
Description
Study & Master Life Skills Grade 5 has been specially developed to support the Curriculum and Assessment Policy Statement (CAPS). This easy-to-use course not only helps learners master essential content and skills in the subject, but gives them the best possible foundation on which to build their Life Orientation and Creative Arts knowledge. The comprehensive Learner's Book provides activities that develop learners' knowledge and understanding of each of the topics covered in the Life Skills curriculum, contains Weekly Readings especially developed for the series, offers current and relevant content.
Product Information
ISBN13 (SKU)
9781107645981
Title
Study & Master Life Skills Learner's Book Grade 5
Author
Elizabeth Ryke, ;Donve Lee, ; Joanne Bloch; Victoria McKechnie; Patricia Notcutt; Tanya Surtees; Khanieta Anwar
Country of Publication
South Africa
Related Products
This product has no related products.