Microwave Engineering (E-Book)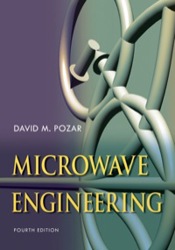 R 820.00
R 940.00
SAVE R 120.00
Microwave Engineering (E-Book)
https://www.vitalsource.com/za/products/microwave-engineering-david-m-pozar-v9781118298138?term=9781118298138#:~:text=By%3A-,David%20M.%20Pozar,-Publisher%3A%C2%A0
Estimated Dispatch Date:
Access Code mailed upon payment confirmation
Microwave Engineering (E-Book)
Description
The 4th edition of this classic text provides a thorough coverage of RF and microwave engineering concepts, starting from fundamental principles of electrical engineering, with applications to microwave circuits and devices of practical importance. Coverage includes microwave network analysis, impedance matching, directional couplers and hybrids, microwave filters, ferrite devices, noise, nonlinear effects, and the design of microwave oscillators, amplifiers, and mixers. Material on microwave and RF systems includes wireless communications, radar, radiometry, and radiation hazards. A large number of examples and end-of-chapter problems test the reader's understanding of the material.
Product Information
ISBN13 (SKU)
9781118298138
Title
Microwave Engineering
Author
https://www.vitalsource.com/za/products/microwave-engineering-david-m-pozar-v9781118298138?term=9781118298138#:~:text=By%3A-, David%20M.%20Pozar, -Publisher%3A%C2%A0
Format Type
E-Book - Vitalsource
Related Products
Physical Copy