Electrical Power System Essentials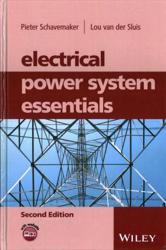 R 1590.00
R 1830.00
SAVE R 240.00
Electrical Power System Essentials
P. Schavemaker, L. V. D. Sluis
Out of Stock
Can Order
Non Refundable
Estimated Dispatch Date:
01 Sep 2022
Electrical Power System Essentials
Share:
Description
This unique approach distinguishes it from other text books on Electrical Power Systems and makes the resource highly accessible for undergraduate students and readers without a technical background directly related to power engineering. After laying out the basics for a steady-state analysis of the three-phase power system, the book examines: * generation, transmission, distribution, and utilization of electric energy * wind energy, solar energy and hydro power * power system protection and circuit breakers * power system control and operation * the organization of electricity markets and the changes currently taking place * system blackouts * future developments in power systems, HVDC connections and smart grids The book is supplemented by a companion website from which teaching materials can be downloaded.
Product Information
ISBN13 (SKU)
9781118803479
Title
Electrical Power System Essentials
Author
P. Schavemaker, L. V. D. Sluis
Country of Publication
United States
Related Products
This product has no related products.