Corporate Finance: The Basics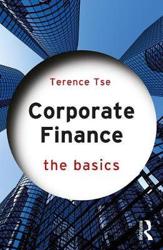 R 260.00
R 300.00
SAVE R 40.00
Corporate Finance: The Basics
Out of Stock
Can Order
Non Refundable
Estimated Dispatch Date:
22 Aug 2022
Corporate Finance: The Basics
Share:
Description
Corporate Finance: The Basics is a concise introduction to the inner workings of finance at the company level. It aims to take the fear out of corporate finance and add the fun in, presenting the subject in a way that is simple to grasp and easy to digest. Its aim is to explain - and demystify - the essential ideas of corporate finance, avoiding the heavy use of maths and formulae. The calculations and figures in the book are purely to illustrate fundamental concepts, appealing to readers' common sense, rather than stretch their ability to do "number-crunching".
Product Information
ISBN13 (SKU)
9781138695603
Title
Corporate Finance: The Basics
Country of Publication
United Kingdom
Related Products
This product has no related products.