Quantitative Methods for Business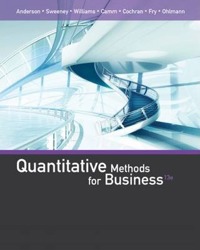 R 1050.00
R 1210.00
SAVE R 160.00
Quantitative Methods for Business
David Anderson • Dennis Sweeney • Thomas Williams • Michael Fry • Jeffrey Ohlmann • Jeffrey Camm • James Cochran
Estimated Dispatch Date:
17 Aug 2022
Quantitative Methods for Business
Share:
Description
You don't have to be a mathematician to maximize the power of quantitative methods. Written for the current-or future-business professional, QUANTITATIVE METHODS FOR BUSINESS, 13E makes it easy for you to understand how you can most effectively use quantitative methods to make smart, successful decisions. The book's hallmark problem-scenario approach guides you step by step through the application of mathematical concepts and techniques. Memorable real-life examples demonstrate how and when to use the methods found in the book, while instant online access provides you with Excel (R) worksheets, LINGO, and the Excel add-in Analytic Solver Platform.
Product Information
ISBN13 (SKU)
9781285866314
Title
Quantitative Methods for Business
Author
David Anderson • Dennis Sweeney • Thomas Williams • Michael Fry • Jeffrey Ohlmann • Jeffrey Camm • James Cochran
Country of Publication
United States
Related Products
This product has no related products.