Hartmann and Kester's Plant Propagation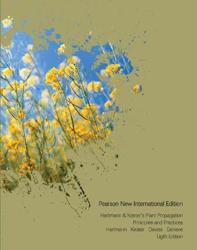 R 1410.00
R 1620.00
SAVE R 210.00
Hartmann and Kester's Plant Propagation
H. Hartmann, D. Kester, F. Davies, R. Geneve
Out of Stock
Can Order
Non Refundable
Estimated Dispatch Date:
13 Jul 2022
Hartmann and Kester's Plant Propagation
Description
The world standard for plant propagation and horticulture for over 50 years, Hartmann and Kester's Plant Propagation continues to be the field's most complete, up-to-date text on plant propagation. It now contains color figures throughout, promoting learning and making it an even more useful working text and reference. It also contains extensive updates reflecting the latest commercial techniques and understanding of propagation biology. Like previous editions, it is organized into paired chapters on principles and practices, so it can easily be adapted for teaching courses that cover only practical topics, and for courses that also cover conceptual issues.
Product Information
ISBN13 (SKU)
9781292020884
Title
Hartmann and Kester's Plant Propagation
Author
H. Hartmann, D. Kester, F. Davies, R. Geneve
Country of Publication
United Kingdom