Textiles: Pearson New International Edition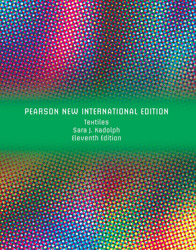 R 1110.00
R 1280.00
SAVE R 170.00
Textiles: Pearson New International Edition
Out of Stock
Can Order
Non Refundable
Estimated Dispatch Date:
13 Jul 2022
Textiles: Pearson New International Edition
Description
A revered resource, Textiles, Elevnth Edition, by Sara Kadolph, provides students with a basic knowledge of textiles, how they are produced and how appropriate performance characteristics are incorporated into materials and products. Organized according to the textile production process, the text provides a solid understanding of textile components-including fibers, yarns, fabrics, and finishes. Using new full-color photos and illustrations, it examines the interrelationships among these components and their impact on product performance. This edition features coverage of new fibers, updated industry and company examples and summary tables that make this a timeless resource for any industry professional. Also discusses the new effects of sustainablity in the industry.
Product Information
ISBN13 (SKU)
9781292021355
Title
Textiles: Pearson New International Edition
Country of Publication
United Kingdom
Institutions
NWU, University of Pretoria
Related Products
This product has no related products.