Principles of Igneous and Metamorphic Petrology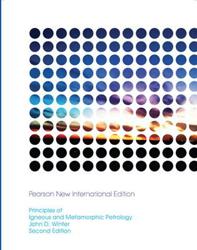 R 1510.00
R 1740.00
SAVE R 230.00
Principles of Igneous and Metamorphic Petrology
Low stock (Online, In Store)
Estimated Dispatch Date:
01 Jul 2022
Principles of Igneous and Metamorphic Petrology
Description
Typical texts on igneous and metamorphic petrology are geared to either advanced or novice petrology students. This unique text offers comprehensive, up-to-date coverage of both igneous and metamorphic petrology in a single volume—and provides the quantitative and technical background required to critically evaluate igneous and metamorphic phenomena in a way that students at all levels can understand. The goal throughout is for students to be able to apply the techniques—and enjoy the insights of the results—rather than tinker with theory and develop everything from first principles.
Product Information
ISBN13 (SKU)
9781292021539
Title
Principles of Igneous and Metamorphic Petrology
Country of Publication
United Kingdom