Fundamentals of Applied Electromagnetics (E-Book)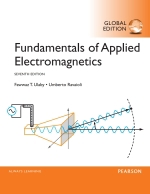 R 780.00
R 900.00
SAVE R 120.00
Fundamentals of Applied Electromagnetics (E-Book)
F. T. Ulaby, E. Michielssen, U. Ravaioli
Estimated Dispatch Date:
Access Code mailed upon payment confirmation
Fundamentals of Applied Electromagnetics (E-Book)
Description
Fundamentals of Applied Electromagnetics is intended for use in one- or two-semester courses in Electromagnetics Widely acclaimed both in the U.S. and abroad, this authoritative text bridges the gap between circuits and electromagnetics material. Coverage begins with transmission lines, leading students from familiar concepts into more advanced topics and applications. A student-friendly approach, full-colour figures and images, and a set of interactive simulations will help students develop a deeper understanding of electromagnetic concepts and applications. The full text downloaded to your computer With eBooks you can: search for key concepts, words and phrases make highlights and notes as you study share your notes with friends eBooks are downloaded to your computer and accessible either offline through the Bookshelf (available as a free download), available online and also via the iPad and Android apps. Upon purchase, you'll gain instant access to this eBook.
Product Information
ISBN13 (SKU)
9781292082455
Title
Fundamentals of Applied Electromagnetics
Author
F. T. Ulaby, E. Michielssen, U. Ravaioli
Format Type
E-Book - Vitalsource
Related Products
Physical Copy