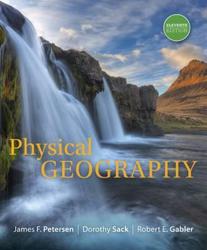 R 1190.00
R 1370.00
SAVE R 180.00
D. Sack, R. Gabler, J. Petersen
Out of Stock
Can Order
Non Refundable
Estimated Dispatch Date:
13 Jul 2022
Physical Geography
Description
PHYSICAL GEOGRAPHY, Eleventh Edition, uses the combined expertise of three accomplished and respected geographers to show not only what constitutes physical geography but also the interrelationships between people and Earth's natural environment. The well-written text and excellent illustrations emphasize three essential themes to demonstrate the major roles of the discipline -- Geography as Physical Science, Geography as Spatial Science, and Geography as Environmental Science. With a strong focus on processes and the interrelationships among Earth's systems, this text guides you to an understanding and appreciation of how the various natural systems function and of how humans are an integral component of physical geography.
Product Information
ISBN13 (SKU)
9781305652644
Author
D. Sack, R. Gabler, J. Petersen
Country of Publication
United States
Course Codes
SSCE411, ANAV112, SSCE211, NSSP211
Related Products
This product has no related products.