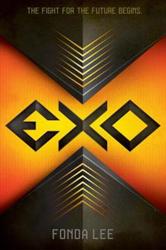 R 290.00
R 330.00
SAVE R 40.00
Out of Stock
Can Order
Non Refundable
Estimated Dispatch Date:
11 Jul 2022
Exo
Description
A deeply immersive story that balances fantastic, original world building with spine-tingling adventure. --Sabaa Tahir, author of the New York Times bestselling series An Ember in the Ashes It's been a century of peace since Earth became a colony of an alien race with far reaches into the galaxy. Some die-hard extremists still oppose their rule on Earth, but Donovan Reyes isn't one of them. His dad holds the prestigious position of Prime Liaison in the collaborationist government, and Donovan's high social standing along with his exocel (a remarkable alien technology fused to his body) guarantee him a bright future in the security forces. That is, until a routine patrol goes awry and Donovan's abducted by the human revolutionary group Sapience. When Sapience realizes who Donovan's father is, they think they've found the ultimate bargaining chip. But the Prime Liaison doesn't negotiate with terrorists, not even for his own son.
Product Information
ISBN13 (SKU)
9781338232035
Related Products
This product has no related products.