Cases in Comparative Government and Politics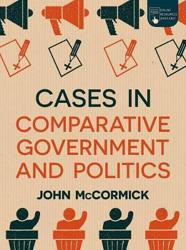 R 850.00
R 980.00
SAVE R 130.00
Cases in Comparative Government and Politics
Estimated Dispatch Date:
01 Jul 2022
Cases in Comparative Government and Politics
Description
Using twelve pivotal cases, this book brings comparative politics to life by highlighting the key differences in political systems around the world. Written by renowned textbook author John McCormick, the book opens with two context-setting chapters on the field of comparative politics and the varying nature of political systems. The cases that follow thereafter have been carefully chosen to illustrate a variety of political types, different levels of political development, and to ensure geographical and cultural diversity.
Product Information
ISBN13 (SKU)
9781352007350
Title
Cases in Comparative Government and Politics
Country of Publication
United Kingdom
Related Products
This product has no related products.