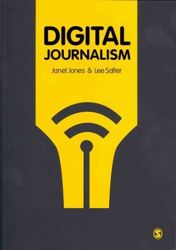 R 800.00
R 920.00
SAVE R 120.00
Out of Stock
Can Order
Non Refundable
Estimated Dispatch Date:
18 Jul 2022
Digital Journalism
Share:
Description
How can we make sense of the ongoing technological changes affecting journalism and journalists today? Will the new digital generation break down barriers for journalism, or will things just stay the same? These and other pertinent questions will be asked and explored throughout this exciting new book that looks at the changing dynamics of journalism in a digital era. Examining issues and debates through cultural, social, political and economic frameworks, the book gets to grip with today's new journalism by understanding its historical threats and rememberin
Product Information
ISBN13 (SKU)
9781412920827
Author
Janet Jones ;Lee Salter
Country of Publication
United States
Related Products
This product has no related products.