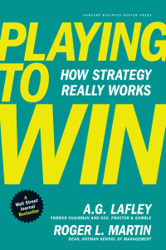 R 650.00
R 750.00
SAVE R 100.00
Out of Stock
Can Order
Non Refundable
Estimated Dispatch Date:
14 Jul 2022
Playing to Win
Description
Winning CEO A.G. Lafley is now back at the helm of consumer goods giant Procter & Gamble. If you want to know the strategy he'll use to restore P&G to its former dominance—read this book. Playing to Win, a noted Wall Street Journal and Washington Post bestseller, outlines the strategic approach Lafley, in close partnership with strategic adviser Roger Martin, used to double P&G's sales, quadruple its profits, and increase its market value by more than $100 billion when Lafley was first CEO (he led the company from 2000 to 2009). The book shows leaders in any type of organization how to guide everyday actions with larger strategic goals built around the clear, essential elements that determine business success—where to play and how to win.
Product Information
ISBN13 (SKU)
9781422187401
Author
A. G. Lafley; R. Martin
Related Products
This product has no related products.