Stedman's Medical Dictionary Online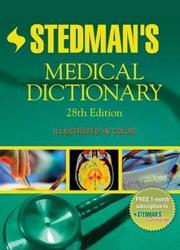 R 1800.00
R 2070.00
SAVE R 270.00
Stedman's Medical Dictionary Online
Out of Stock
Can Order
Non Refundable
Estimated Dispatch Date:
27 Jul 2022
Stedman's Medical Dictionary Online
Share:
Description
Stedman's Medical Dictionary is the reliable, essential resource for the health care field, including medical students, physicians, educators, researchers, medical records/coding, and medical language specialists. You can search for the definition of a term, hear it pronounced, see it illustrated, and watch it in motion. More than 107,000 terms are defined by the most trusted name in medical references Access to over 5,600 images illustrate key medical terms and concepts Click-on audio icons displayed alongside approximately 60,000 terms let you hear correct pronunciations Nearly 50 illuminating live-action video from "Acland's Video Atlas of Human Anatomy" present anatomy in motion. Superior keyword search functionality making accuracy instantaneous Browse the A-to-Z Index Customize the medical dictionary using My Stedman's: Add terms, Add notes to terms, Save searches and illustrations
Product Information
ISBN13 (SKU)
9781451112689
Title
Stedman's Medical Dictionary Online
Publisher
LIPPENCOT & WILLIAMS
Country of Publication
United States
Related Products
This product has no related products.