Macroeconomics : South African Edition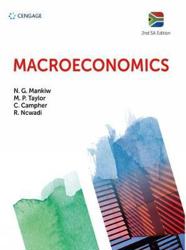 R 540.00
R 620.00
SAVE R 80.00
Macroeconomics : South African Edition
R Ncwadi; NG Mankiw; MP Taylor; C Campher
Out of Stock
Can Order
Non Refundable
Estimated Dispatch Date:
18 Jul 2022
Macroeconomics : South African Edition
Share:
Description
This South African edition of Macroeconomics is essential reading for all students taking introductory economics modules on undergraduate courses throughout South Africa. It is also ideal for use with the macroeconomics component of MBA courses. The text contains updated case studies, set against a South African context to illustrate how the principles of economics relate to your life. The news articles are based on news events in South Africa along with questions to help you apply your knowledge and to build your understanding. This text is designed to give you the confidence and ability to think like an economist.
Product Information
ISBN13 (SKU)
9781473763524
Title
Macroeconomics : South African Edition
Author
R Ncwadi; NG Mankiw; MP Taylor; C Campher
Country of Publication
United Kingdom
Related Products
This product has no related products.