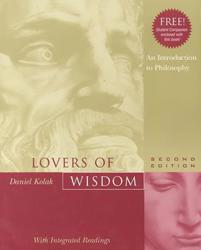 R 740.00
R 850.00
SAVE R 110.00
Out of Stock
Can Order
Non Refundable
Estimated Dispatch Date:
18 Jul 2022
Custom Lovers of Wisdom
Share:
Description
This is the most exciting and comprehensive text with integrated readings for introducing students to philosophy. It presents the big picture with all the right details. The central idea is to embed the best excerpts from the most important writings of the most important philosophers into one seamless, coherent adventure story in such a way that the reader takes part in the process of discovery. Instead of reading about philosophy, readers acquire philosophical insights into themselves and the world by acquiring a knowledge of philosophical ideas presented in their original contexts. Organized both historically and topically, the book can be used either chronologically or by topics, and to facilitate this for instructors it contains two separate tables of contents. The book covers all the major philosophers from the pre-Socratics to twentieth-century philosophy with a scope wide enough to embrace all schools and traditions-from the analytic and continental to non-western.
Product Information
ISBN13 (SKU)
9781473777033
Title
Custom Lovers of Wisdom
Country of Publication
United Kingdom
Related Products
This product has no related products.