Introduction to communication studies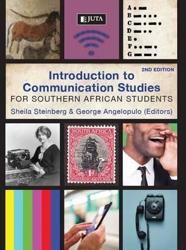 R 485.00
R 560.00
SAVE R 75.00
Introduction to communication studies
S. Steinberg , G. Angelopulo
Estimated Dispatch Date:
15 Jul 2022
Introduction to communication studies
Share:
Description
ntroduction to communication studies for southern African students is an introductory textbook on the theories of and approaches to communication studies for first-year students. Building on the framework of the first edition it reflects the dynamic evolution of communication studies in the recent past, introducing new insights and approaches to communication media and digital communication. Acknowledging the unique requirements of the African communication environment, the text is illuminated with a range of uniquely South and southern African examples to contextualise the theory, with chapters written by leading academic authors from east and southern Africa.
Product Information
ISBN13 (SKU)
9781485102717
Title
Introduction to communication studies
Author
S. Steinberg , G. Angelopulo
Country of Publication
South Africa