Crime Scene Investigation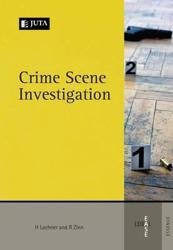 R 530.00
R 610.00
SAVE R 80.00
Crime Scene Investigation
Estimated Dispatch Date:
11 Jul 2022
Crime Scene Investigation
Share:
Description
Crime Scene Investigation is a practical book dealing with the management, investigation, and control and processing of crime scenes, or scenes of incident, as they are now called. The book explains the important principles of continuity of possession and the importance of preventing contamination of the scene and evidence. It also focuses on the roles of experts and aids who can help investigating officers to solve complex and varied crimes.
Product Information
ISBN13 (SKU)
9781485106425
Title
Crime Scene Investigation
Author
R. Zinn, H. T. Lochner
Country of Publication
South Africa
Course Codes
CDM100, CDM200