Vulnerable Children in South Africa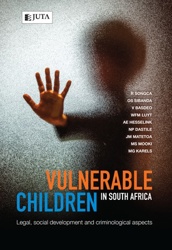 R 510.00
R 590.00
SAVE R 80.00
Vulnerable Children in South Africa
R. Songca, O. S. Sibanda, V. Basdeo, W. F. M. Luyt, A. E. Hesselinkm, N. P. Dastile, J. M. Matetoa, M. S. Mooki, M. Karels
Estimated Dispatch Date:
11 Jul 2022
Vulnerable Children in South Africa
Share:
Description
Vulnerable Children in South Africa: Legal, social development and criminological aspects analyses the legal, social development, criminological and penology issues that affect vulnerable children and children who are in conflict with the law. The book adopts a multi-disciplinary approach to the topic and considers vulnerability within both the family and broader societal structures. The book addresses the needs of children as victims and children as perpetrators of harm. The book takes a holistic view of vulnerability in childhood and addresses a wide variety of issues, including the nature and potential legal impact of harmful cultural practices.
Product Information
ISBN13 (SKU)
9781485118091
Title
Vulnerable Children in South Africa
Author
R. Songca, O. S. Sibanda, V. Basdeo, W. F. M. Luyt, A. E. Hesselinkm, N. P. Dastile, J. M. Matetoa, M. S. Mooki, M. Karels
Country of Publication
South Africa