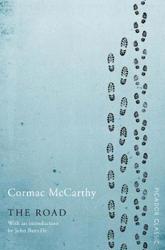 R 240.00
R 280.00
SAVE R 40.00
Estimated Dispatch Date:
15 Aug 2022
The Road
Share:
Description
In a burned-out America, a father and his young son walk under a darkened sky, heading slowly for the coast. They have no idea what, if anything, awaits them there. The landscape is destroyed, nothing moves save the ash on the wind and cruel, lawless men stalk the roadside, lying in wait. Attempting to survive in this brave new world, the young boy and his protector have nothing but a pistol to defend themselves. They must keep walking.
Product Information
ISBN13 (SKU)
9781509870639
Country of Publication
United Kingdom
Institutions
Varsity College
Course Codes
ENGL7312, ENGL7322
Related Products
This product has no related products.