Basics of Audiology: From Vibrations to Sounds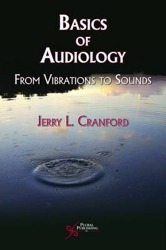 R 2530.00
R 2910.00
SAVE R 380.00
Basics of Audiology: From Vibrations to Sounds
Out of Stock
Can Order
Non Refundable
Estimated Dispatch Date:
15 Jul 2022
Basics of Audiology: From Vibrations to Sounds
Share:
Description
This book was developed from Dr. Cranford's extensive experience teaching audiology to speechlanguage pathology students. Although there are multiple, established introductory texts in audiology, this text is uniquely geared to students who certainly are studying Speech-Language Pathology. This text includes all the necessary audiological principles needed for any SLP student to become competent in test assessment and the diagnosis of hearing disorders. Mastery of this text will enable the future clinician practice in a wider patient base. In addition to being useful in undergraduate training programs as a primary or supplementary text, the book will also be valuable for SLPs who have "been in the trenches" for a number of years and feel they need to have their knowledge of audiology refreshed or updated
Product Information
ISBN13 (SKU)
9781597561808
Title
Basics of Audiology: From Vibrations to Sounds
Publisher
NBN International
Country of Publication
United States
Related Products
This product has no related products.