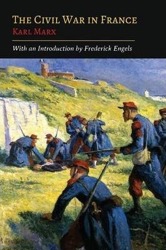 R 280.00
R 320.00
SAVE R 40.00
Out of Stock
Can Order
Non Refundable
Estimated Dispatch Date:
26 Aug 2022
Civil War in France
Share:
Description
2014 Reprint of 1934 Edition. Full facsimile of the original edition, not reproduced with Optical Recognition Software. "The Civil War in France" was a pamphlet written by Karl Marx as an official statement of the General Council of the International on the character and significance of the struggle of the Parisian Communards in the French Civil War of 1871. In 1891, on the 20th anniversary of the Paris Commune, Engels put together a new edition of the work. He wrote an introduction to this edition, emphasizing the historical significance of the experience of the Paris Commune, and its theoretical generalization by Marx in "The Civil War in France," and also providing additional information on the activities of the Communards from among the Blanquists and Proudhonists. Engels also decided to include earlier material by Marx made for the International - in this way providing additional historical background to the Commune from Marx's account of the Franco-Prussian War.
Product Information
ISBN13 (SKU)
9781614276043
Title
Civil War in France
Author
K. Marx, F. Engels
Related Products
This product has no related products.