The ANC Underground in SA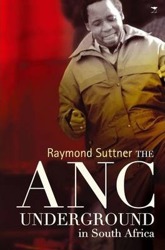 R 270.00
R 310.00
SAVE R 40.00
The ANC Underground in SA
Out of Stock
Can Order
Non Refundable
Estimated Dispatch Date:
11 Jul 2022
The ANC Underground in SA
Description
It is commonly held that the ANC - after its banning in 1960 and the imprisonment of its leaders - largely disappeared off the face of South Africa until public support for it revived in the wake of the Soweto uprising of 1976. This book takes issue with that view. Drawing on substantial oral testimony, Raymond Suttner develops a convincing case that internally based activists, sometimes working independently of the ANC in exile and sometimes in combination, were able to reconstitute networks within South Africa after the organization's banning.
Product Information
ISBN13 (SKU)
9781770095977
Title
The ANC Underground in SA
Country of Publication
South Africa
Related Products
This product has no related products.