Piekfyn Afrikaans Leesboek Graad 7 Eerste Addisionele Taal (E-Book)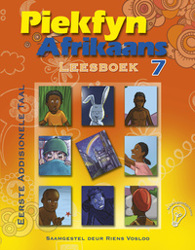 R 260.00
R 300.00
SAVE R 40.00
Piekfyn Afrikaans Leesboek Graad 7 Eerste Addisionele Taal (E-Book)
Estimated Dispatch Date:
Access Code mailed upon payment confirmation
Piekfyn Afrikaans Leesboek Graad 7 Eerste Addisionele Taal (E-Book)
Share:
Description
'n Leesboek soos min! Die Piekfyn Afrikaans Leesboek is volgens die vereiste vir leesonderrig in die Senior Fase en die KABV ontwikkel. Die boek is ingedeel volgens verskillende genres met tekste en temas gepas vir leerders in hierdie fase. Wanneer leerders hierdie boek lees, gaan hulle hulself inleef in die gebeure, belewenisse, waarnemings en emosies van die karakters in elke teks. Die Piekfyn Afrikaans Leesboek bestaan uit korverhale en volksverhale wat lesers nuwe avonture en ervarings laat beleef. Daar is dramas om in groepverband te beurtlees of op te voer, en gedigte om te lees vir genot of om te dramatiseer.
Product Information
ISBN13 (SKU)
9781775890997
Title
Piekfyn Afrikaans Leesboek Graad 7 Eerste Addisionele Taal
Publisher
Human & Rousseau
Format Type
E-Book - Vitalsource
Related Products
Physical Copy