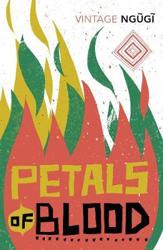 R 300.00
R 340.00
SAVE R 40.00
Out of Stock
Can Order
Non Refundable
Estimated Dispatch Date:
12 Jul 2022
Petals of Blood
Share:
Description
A compelling novel about the tragedy of corrupting power, set in post-independence Kenya...Ngugi writes with passion about every form, shape and colour which power can take' Sunday Times After decades of British rule Kenya has declared its independence, but drought and poor harvests still govern the village of Ilmorog. Undeterred, Munira, Karega, Wanja and Abdulla each move to Ilmorog in search of a more provincial life, only to find themselves suspects in a crime that signals a dark turning of the times. A classic of modern African literature, Ngugi wa Thiong'o's damning satire of politics and corruption in Kenya would prove the catalyst for his imprisonment by the Kenyan government.
Product Information
ISBN13 (SKU)
9781784873363
Country of Publication
United States
Related Products
This product has no related products.